Evacuation solutions
for airports
SAFE EVACUATION FROM AIRPORT BUILDINGS
ARE YOU PREPARED FOR A CALAMITY OR EMERGENCY ON An airport, SUCH AS A FIRE, smoke, left luggage OR A TECHNICAL failure? AND DO YOU TAKE INTO ACCOUNT THAT IN EMERGENCY SITUATIONS THE AIRPORT MUST BE evacuated QUICKLY AND safely?
PASSENGERS AND EMPLOYEES MAY NOT USE THE LIFTS, SO the stairs are THE MOST EFFECTIVE EVACUATION route. Besides MOST airports ARE ACCESSIBLE FOR PERSONS WITH A reduced MOBILITY (PRM`S). IT IS more DIFFICULT TO evacuate them IN THE EVENT OF AN EMERGENCY.
HIGH-QUALITY EVACUATION EQUIPMENT FOR airports
Escape Mobility Company developed high-quality evacuation equipment especially for emergency situations and evacuations from airports and terminals. In this way you can evacuate PRM`s quickly, safely and comfortably in the event of an emergency.
By using evacuation equipment your airport and terminal is prepared for any kind of evacuation.
Obligation
Airports have the obligation to include a separate section on the evacuation of PRM's in the evacuation plan of the buildings (terminals).
An evacuation plan indicating the emergency doors must be clearly visible in the airport. Evacuation chairs must be available for stairs to the emergency doors.
EVACUATION FROM AN AIRPORT: WITH AN EVACUATION CHAIR
Evacuation chairs help to ensure the safety of PRM`s during an emergency situation. People who would benefit from evacuation chairs are not just people in wheelchairs. Less able or perhaps people suffering from short-term injury, all need to be catered for, should an emergency evacuation occur.
EVACUATION CHAIR: WHY ESCAPE-CHAIR®?
The unique sliding / braking system makes the braking of the Escape-Chair® possible on all different kinds of stairs, from wood to concrete. This braking system is optimized by the weight of the evacuee, in combination with the pressure of the operator pushing down on the handle in the direction of the stairs.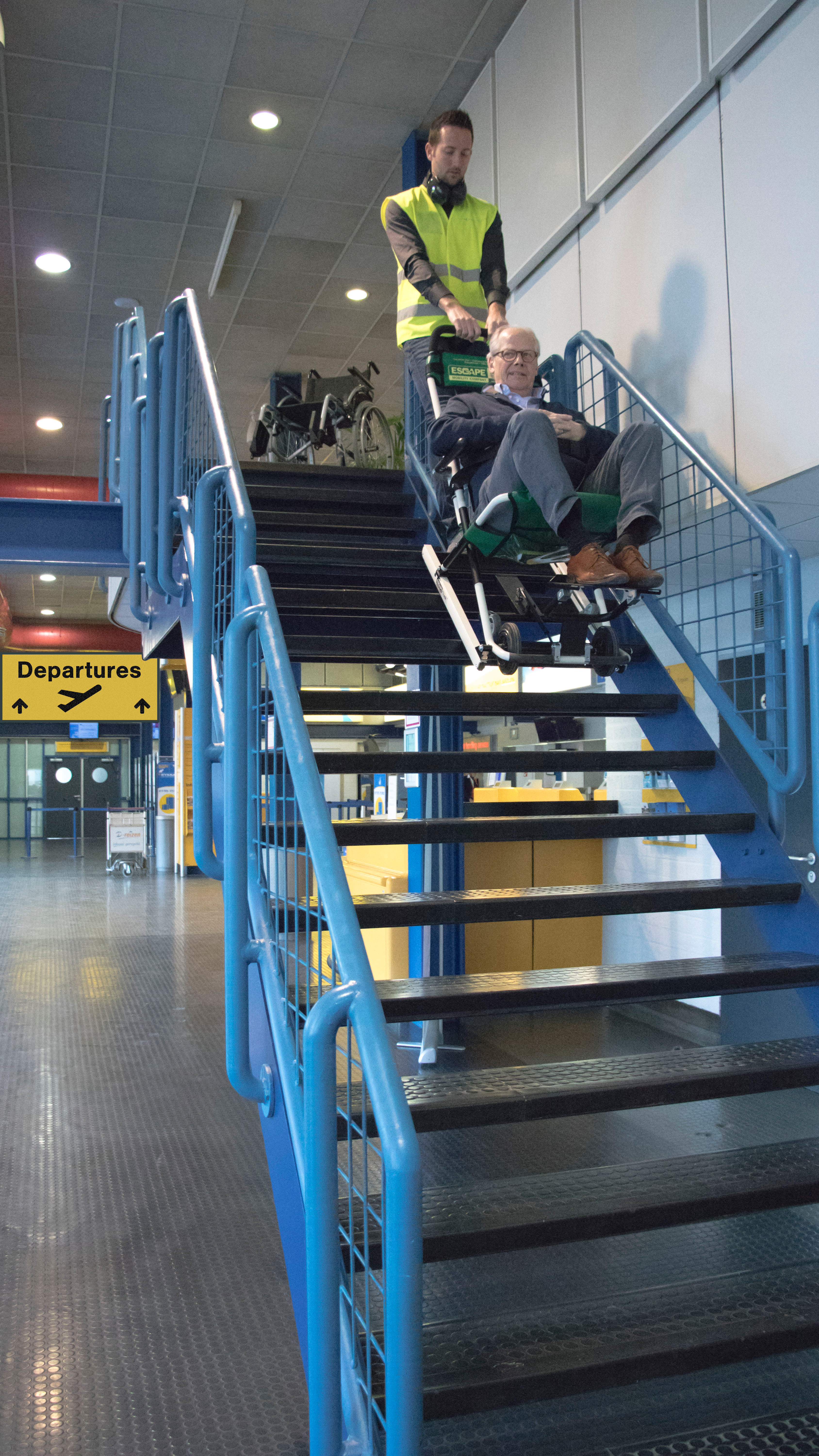 The
evacuation chairs of Escape Mobility Company
are made from high quality parts and provide extra comfort for different target groups. The seats can be equipped with a double ergonomic backrest, comfort seat, armrests and footrest. Evacuation chairs are suitable for all stairs, except spiral stairs and stairs steeper than 40 degrees. Evacuation is possible with one person, but our advice is always to evacuate with two people. Our Escape-Chairs are also compact and easy to store.
ALSO AVAILABLE IN POWERED VERSION
Moreover, our evacuation chair is also available in a powered version. It is easy to use: with just one touch of a button you are ready to evacuate. A single operator can push the operating handle down in the direction of the stairs but for easier maneuverability we advise that an evacuation should be done by 2 people.
ACI HANDBOOK FOR AIRPORTS AND PRM
The ACI, Airports Council International, recently issued the new handbook for airports around the world. This manual is mainly aimed at airport operators. It is intended to help airports improve the accessibility of air travel for passengers with disabilities, including people with reduced mobility (PRM`s).
The recommendations in this handbook are designed to effectively help airports with disabilities to design new facilities and improve existing facilities. ACI hopes that the implementation of the recommendations will contribute significantly to the goal of airports without obstacles.
A separate chapter (pages 133-134) is entirely about evacuation and the recommendation of using evacuation aids.
Our evacuation solutions can be found at the following airports:
Amsterdam Schiphol (AMS)
Frankfurt (FRA)
Rome Fiumicino (FCO)
Brussels Airport (BRU)
Prague (PRG)
Copenhagen (CPH)
Sofia (SOF)
Munich (MUC)
Berlin Schönefeld (SXF)
Malta (MLA)
Bucharest (OTP)
Kevlavik (KEF)
Liège (LGG)
Dresden (DRS)
Bergen (BGO)
Riga (RGX)
Aeroporto di Puglia (BRI)
Clermont Ferrand (CFE)
Cardiff (CWL)
Brussels South (CRL)
Antwerp (LEM)
Liepaja (LPX)
Weeze (NRN)
Parnü (EPU)
Podgorica (TGD)
Turku (TKU)
Finavia
Litcargus
Cargolux
Sahco PLC
Gibair
MORE THAN 30 YEARS EXPERIENCE
Escape Mobility Company has more than 30 years of international experience in developing and offering evacuation solutions for airports. We always have a solution for your airport, even in difficult situations or constructional barriers.
You can request free advice with our site survey, where we look for the most suitable evacuation concepts at an airport or in a terminal.
In addition, we support staff with training courses and you can make use of one-off maintenance or maintenance agreements.