Training
Be prepared for an evacuation
As the nominated responsible person, it is your job to ensure that staff are trained in the use of evacuation equipment in the workplace.
AN EVACUATION AID (EVACUATION CHAIR, MATTRESS OR sheet) IS A MEDICAL DEVICE (CLASS I – EU 2017/745) AND SHOULD ONLY BE OPERATED BY PERSONS who have been TRAINED BY A CERTIFIED TRAINER.
SO BOOK YOUR TRAINING WITH US NOW AND MAKE SURE YOU ARE TRULY PREPARED.
Investing in proper evacuation aids is the first step. In addition, it is also necessary to always have persons present who have undergone certified training. All training participants learn how to properly, safely and quickly use the evacuation aids available. Escape Mobility Company has been providing training since 1987, conducted by our own experts and certified trainers.
Escape Mobility training is always conducted in your own building with your own evacuation aids. As a result, the training seamlessly connects to a practical situation within your organization. It is important to train your staff annually, by a certified trainer, so that you are never confronted with unpleasant surprises
WE OFFER TRAINING ON:
all Escape-Chair® models, "van Leeuwen evacuation chair" or similar evacuation chairs, such as the Evac-Chair, the Escape-Mattress® evacuation mattress and the Escape-Sheet® evacuation sheet.
Training in the use of other evacuation aids and power tools can also be provided by us if required. Should you be interested in this, please contact us without obligation.
Please note that training is only carried out with evacuation aids that have been serviced.
EMERGENCIES CANNOT BE PLANNED FOR, PREPARATIONS CAN. DO YOU DARE NOT BE PREPARED?
"THE ONLY THING more difficult THAN BEING PREPARED FOR AN EMERGENCY IS EXPLAINING afterwards WHY YOU DIDN'T."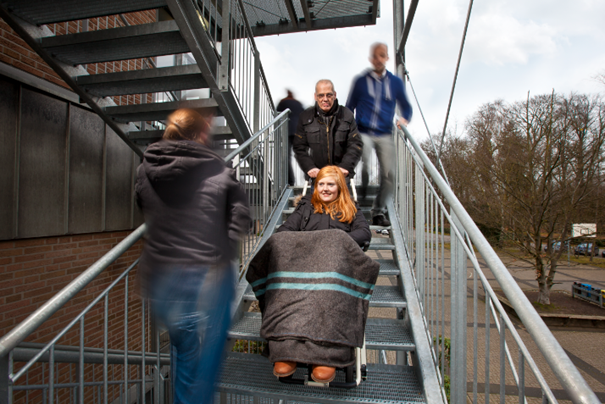 We can offer you the following options:
Operator Training
User instruction is aimed at training the actual user of the evacuation aids in the effective and safe use of the evacuation aids.
This is done through training in small groups at your location and is applied in practice with your own evacuation aids. The participants receive a certificate afterwards with a validity of 1 year.
Please note: trainings are only conducted with evacuation aids that have been maintained.
Course duration:
Variable
Number of attendees per training session:
Maximum of 4 people
train the trainer
The Train the Trainer program aims to train a select group of employees (e.g., your Shift Leaders, or security) as trainers in the use of evacuation aids. Here, we assume that trainees are already familiar with the use of the respective evacuation aid, but this is not necessary.
A combination of a user training with a Train the Trainer is of course also possible. During the training, trainees are introduced to the basic principles of didactics and are proactively trained in setting up and applying an evacuation concept. We train competencies such as giving feedback and oral communication.
After the Train the Trainer, several documents will be provided by us that will be very useful for your trainers. The trainers receive their Train de Trainer certificate at the end. This has a validity of 2 years.
Please note that trainings are only conducted with evacuation aids that have been maintained.
Course duration:
Approx. 3 – 4 hours 
Number of attendees per training session:
Maximum of 4 people