Training
Be prepared for an evacuation
As the nominated responsible person, it is your job to ensure that staff are trained in the use of evacuation equipment (evacuation chairs or mattresses), in the workplace. Not only this, they need to have the confidence to assist a vulnerable colleague in a crisis and to help them to evacuate a building, regardless of it being as part of an annual fire drill or if it really is in an emergency.
Don't put people at risk! Always ensure that training is carried out in their own building, using their own evacuation equipment (evacuation chair / evacuation mattress). As the training is very site specific, there needs to be an assessment of the type of building, as well as its usage. Together with any awareness of staff/public issues that should have been identified or need to be identified.
Escape Mobility training is site-specific, so your staff are trained to use the evacuation chairs, evacuation mattresses, evacuation sheets and powered stair climbers in their own building so that you know that it will fit into your own fire evacuation & people moving procedures.
Our advice is to have your staff (or part of them) trained annually so that you are never faced with unpleasant surprises.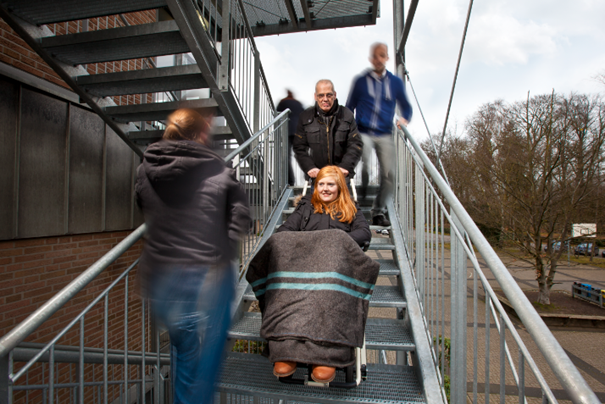 We can offer you the following options:
Operator Training
A must-have inspiring and practical training session for up to 4 people per group (due to Covid 19 this is the max number of participants). So that people have enough confidence in being able to evacuate  a person with reduced mobility both in or out your building, safely!
Course duration:
Variable
Number of attendees per training session:
Maximum of 4 people
train the trainer
Train the trainer is a practical session for up to 4 people per group. We train your key staff to train other staff to operate the evacuation equipment. As well as providing people handling techniques, so that use of the equipment can be done so with confidence and safety. On completing the course, all delegates that meet the training standards will be awarded a Train the Trainer certificate as proof that they are competent in training others.
Course duration:
Approx. 3 – 4 hours 
Number of attendees per training session:
Maximum of 4 people