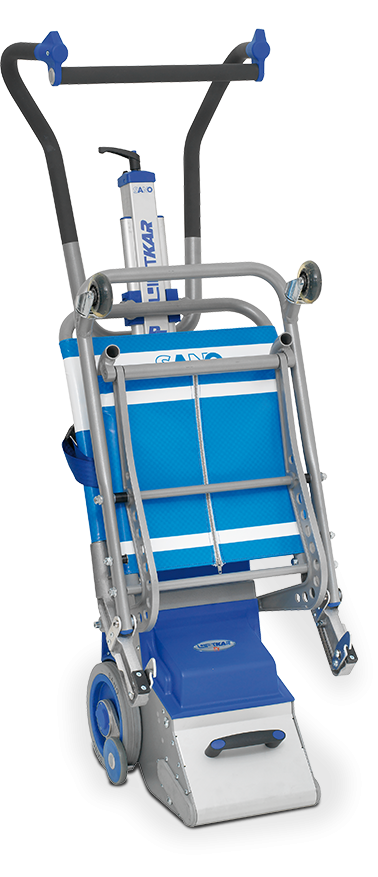 There are many reasons why somebody cannot manage stairs alone for a time, or permanently. For people who need assistance, Sano offers powered stairclimbers that are easy to use, safe and can be operated without excessive effort.
Reliable indoors and outdoors: Basement, ground floor, first floor, garden – with the LIFTKAR PT you can get your whole house back. And there's more: going to the doctor's or post office, driving by car to visit friends and relatives, travelling by plane or train, going to the theatre or an exhibition – everything becomes much easier again. A powerful battery pack, mobile charger unit (available as an accessory) and a quick-change battery pack ensure that the LIFTKAR PT is ready for action at any time.
Safety and ergonomic handling for indoors.
The LIFTKAR PT-FOLD features advanced stairclimbing technology and can handle any challenge. The 130 model is designed for people up to 130 kg while the 160 is for people up to 160 kg. The soft upholstered and ergonomically-shaped seat guarantees a comfortable ride.
The stairclimber doesn't start moving down steps until the brake wheels on the lifting mechanism have reached the next step. With this level of safety, the LIFTKAR PT can be manoeuvred relaxed and confidently with an upright posture and without straining your back. The handle unit is easy to adjust and is equipped with anti-slip material. Use the robust crossbar to support and hold the unit. With UP/DOWN switches on both hand grips, the LIFTKAR PT does not need to be adapted when changing between left- and right-handed operators. Choose between three climbing speeds, depending on the nature of the stairs: 10, 14 or 18 steps per minute.
Usage
The Liftkar PT-FOLD 130 is a perfect daily solution for your mobility problem in a homely environment or a public building and especially for the rescue services.
Advantages
18 unbeatable advantages`that will convince you
02 – up to 18 steps per minute
03 – single-step mode and continuous mode
04 – climbs effortlessly with people weighing up to 160 kg
05 – independence thanks to mobile charger and quick-change battery pack
06 – leaves no marks on stairs or floors
07 – confident even on steep, spiral staircases
08 – intuitive control panel
09 – for left- and right-handed operators
10 – lightweight foldable construction
11 – switch between single-step mode and continuous modeon-the-move
12 – modular design: quick and easy to dismantle into 3 sections and re-assemble again
13 – stows away in boot of car no problem
14 – reliable step edge brakes
15 – electrical and mechanical overload protection
16 – ergonomic, non-slip and height-adjustable handle grips
17 – angle indicator for perfect balance during operation
18 – motorized escape aid
Demonstrations and advice
No two buildings are the same and no two situations are the same. Our expert product specialists will provide advice on evacuation concepts for your Organisation. We share the same passion in helping you to make the best choice, when it comes to investing in the right evacuation equipment. So before you order, why not contact us for some expert help!
Specifications
Total height: 1130 mm
Maximum load baring: 130 kg
Maximum step height: 205-220mm
Weight: ±28 kg
Battery lasts 300-500 steps
CE certified
Delivery incl. manual