This model has some additional features fitted as standard, when comparing to the Escape-Chair® ST-B.
The operating handle has an anti-slip foam grip which increases the comfort for the operator. The headrest is padded and the seat is provided with extra immobilisation to give more comfort to the occupant.
This model can also be fitted with a footrest, if desired.
Usage
This Escape-Chair® is most suitable for helping you to meet your minimal legal requirement (General Emergency Evacuation Plan – UK) for your (public) building.
Demonstrations and advice
No two buildings are the same and no two situations are the same. Our expert product specialists will provide advice on evacuation concepts for your Organisation. We share the same passion in helping you to make the best choice, when it comes to investing in the right evacuation equipment. So before you order, why not contact us for some expert help!
Specifications
Material (frame): Enamelled aluminium
Free demonstration and expert advice in advance
Light weight, easy to operate
Ready for use within a few seconds
Unfolding stand with wide wheel base for horizontal transport
Single ergonomic backrest
Gliding belt system in safe closed exchangable cassette
Optional: flame retardant dust cover
Anti-slip on operating handle and lower bracket
Maximum carrying capacity: 185 kg
Maximum angle of stairs: 40 ̊
Operating handle: 1 position
Standard seat with extra fixation
Optional: footrest
Head rest including immobilisation band
Padded (upholstered) headrest
Weight: 10 kg
Dimensions folded up (H x W x D): 102 x 51 x 18 cm
Warranty: 6 years (not including general wear and tear)
4-language manual
Set wall hooks
Identity sign Escape-Chair®
The Stand-Alone ALU is a free standing device with mounting brackets, so that the Escape-(Carry) Chair® can be suspended.
read more
Evacuation chair with armrests, footrest, in 2-height adjustable operating handle and anti-slide comfort seat.
read more
Light weight evacuation chair with in 2-height adjustable operating handle and anti-slide comfort seat.
read more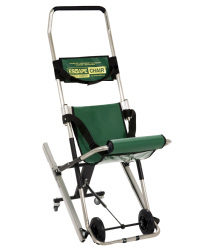 Light weight basic evacuation chair with clear metallic coated aluminium frame.
read more
Powered stair climbing evacuation & rescue chair!
read more